The NYU Shanghai World Library Student Lounge has been renamed the "Tang & Fang Student Lounge" in recognition of the continuous support and generosity of Mrs. Charlene Tang and her husband Mr. Edward Fang to the development of the University.
A plaque bearing the new name was unveiled outside the lounge on May 21, during a ceremony organized by the NYU Shanghai Education Development Foundation in appreciation of the couple's longstanding involvement with NYU Shanghai since its founding in 2012.  
The couple, who are NYU Shanghai parents, previously established the Charlene W. Tang & Edward J. Fang Global Scholarship Fund, providing substantial support to the University's operations, including scholarships and financial aid.

Speaking at the unveiling ceremony, Vice Chancellor Jeffrey Lehman said: "We chose to rename the campus's 'World Library' on your behalf, because NYU Shanghai's cosmopolitan spirit shown here is similar to your previous experiences of being global citizens."
Mr. Fang, who has been supporting education and entrepreneurship in Shanghai for the past 17 years, said the couple wanted to show their appreciation for the University's mission and support its efforts to nurture world citizens.
"We believe the world-class education that NYU Shanghai offers will contribute to the global vision of Shanghai," Mr. Fang said.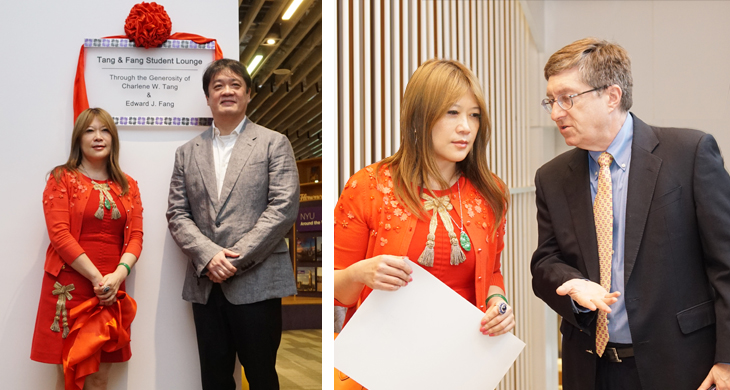 Fang, a graduate of the Yale School of Management, and Tang, an alumnus of New York University, are co-founders of the Living Word Education Group, which provides K-12 Bilingual and International education to students in major cities of China.
Both Tang and Fang are also members of the Sir Harold Acton Society, New York University's most prestigious circle of benefactors, and last September, Tang was appointed as selected Chair of the NYU Shanghai Chinese Parents Council.
On behalf of the NYU Shanghai Parents Council, Tang said she hoped to encourage more individuals to contribute time and energy to the development of the University.