A group study room on NYU Shanghai's second floor has been named the "Yangfan Room", after a generous donation from 193 parents from the Class of 2017 to 2021. The name "Yangfang", which means to set sail in Chinese, was chosen to honor the graduating Class of 2018.
"We are honored to have the opportunity to show our gratitude and support the development of NYU Shanghai," said parent Yin Yaying, who spoke on behalf of all parent donors.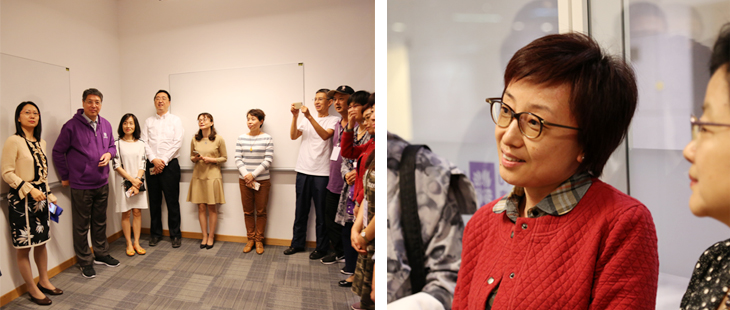 "I have been very impressed by how much my daughter has grown and what she has achieved already at NYU Shanghai through the university's excellent education and services," she added.
Since the university was founded in 2012, parents of  NYU Shanghai have fostered a tradition of giving in support of scholarships and research development. In May 2017, 212 parents participated in a campaign fundraiser to name a group study room in the library "Qihang", to salute the inaugural Class of 2017.
At the unveiling ceremony of the Yangfan Room, Chancellor Yu Lizhong thanked Zhang, who was awarded this year's Vice Chancellor's Service Award, for her commitment to community building and promoting the University's social impact.
"We are so grateful for the continuous support given by our parents across all levels, which has been a key stimulator to the University's growth and achievements," Chancellor Yu said.