You are here
The Reelection Meeting of NYU Shanghai Education Development Foundation Board

During March 14th on the NYU Shanghai campus in conference room 1429, the NYU Shanghai Education Development Foundation Board convened for the 10th biannual First Session reelection meeting, which was immediately followed by the first ever Second Session meeting.
Rime Sun, Secretary General of the Foundation, commenced the meeting with a report to the fellow Board members highlighting the important work that the Foundation has conducted since its founding over 5 years ago. She expressed her gratitude for the strong leadership and vital support of the Board Chairman Yilong Teng and Board President Yungeng Liu.
After her report, the board members reviewed the different reports set forth, including the Special Audit Report on Change in the Board, the Special Audit Report on Economic Responsibility during the Term of Legal Representative, and the Board's Financial Summary. All review was positive and the board moved to approve all the reports presented.

Following this, the board members went into reelection procedures for the next group of leaders on the Foundation Board in accordance to the Articles of Association. After the reelection was completed, it was decided that four members of the first Session of the Board – Chairman Yilong Teng, President Yungeng Liu, Member Hongxia Liu and Member Dewei Chen— will conclude their tenure on the Board. The remaining members will join the Second Session of the Board. 
For the Second Session of the Board, the elections were conducted through secret ballot and resulted in the election of 7 members, including Jinsong Ding, as Second Session Board Members, and 3 supervisors, including Ying Lu, as First Session Board of Supervisors.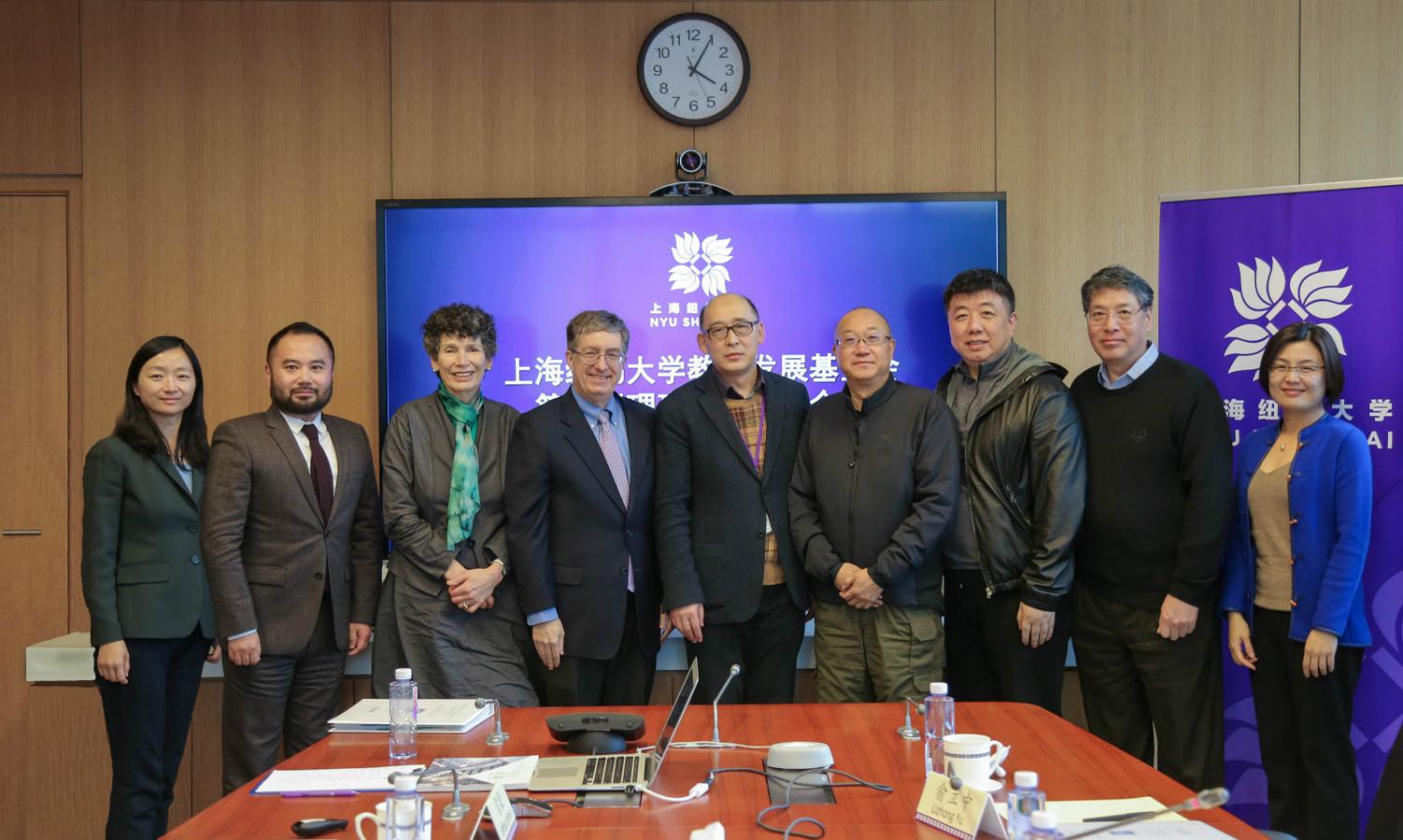 Once the elections were completed, the Second Session of the Foundation Board convened. This first meeting included a round of formal voting through secret ballot to elect the Board leadership.  Vice Chancellor of NYU Shanghai Shuzhe Ding was elected as the Chairman of the Foundation, Chairman of F&E Lun Feng and Chairman of Shanghai HiTime Real Estate Group Jinsong Ding were elected as the Vice Chairman of the Foundation, and Development Director of NYU Shanghai Rime Sun was elected as the Secretary General of the Foundation. This was then followed by the signing of the Resolution for Second Session of Foundation Board Leadership, legal representative, and extension of registration certificate.
The meeting continued with Secretary General Rime Sun report to the new Board members about the Foundation's progress since last November, and after review of the varied work reports, the Board voted and approved important directives for the functioning and direction of the Foundation's work in the near future.
At the conclusion of the Second Session meeting, the newly instated board members had a positive outlook for the future development of the Foundation's activities, as well as NYU Shanghai's growth on a whole. They left with the sentiment that under the new leadership, the Foundation will be able to make great strides in its work and leave indelible impact on the institution of NYU Shanghai.
Members of the Second Session of NYU Shanghai Education Development Foundation Board
Chairman: Shuzhe Ding
Vice Chairman: Lun Feng    Jinsong Ding
Secretary General: Rime Sun
Board Members: Lizhong Yu, Jeffrey Lehman, Joanna Waley-Cohen
Supervisors: Hao Weng, Yinglan Wang, Charlotte Lu