Instead of a traditional plaque, an interactive video installation designed to recognize NYU Shanghai donors was unveiled in the Academic Building on Wednesday, with the whole university community invited to participate by contributing their own messages of support.

Placed in the mezzanine between first and second floors, "The Box" provides an intimate and fun setting to record ten-second videos that are immediately displayed on two interactive video walls intermingled with panels celebrating NYU Shanghai donors. Above "The Box", a hanging sculpture showcasing photographs of NYU global sites.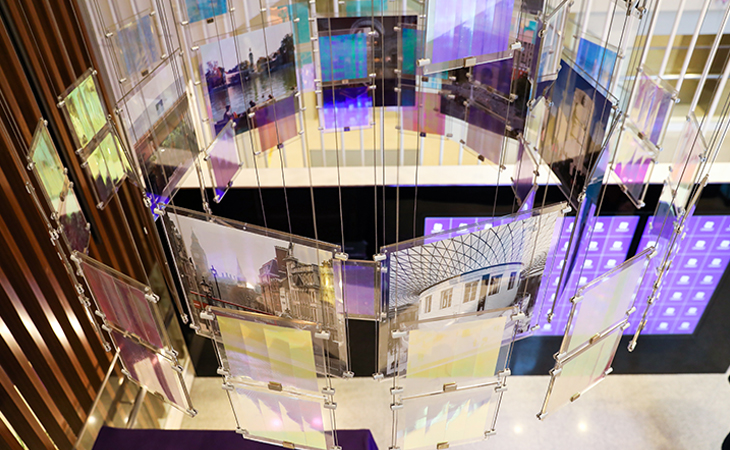 At the launch ceremony attended by students, faculty, and staff, NYU Shanghai Vice Chancellor Jeff Lehman expressed gratitude to the donors for believing in NYU Shanghai's educational mission and sponsoring a variety of scholarships and academic programs.
Rather than building a traditional wall that only lists the names of the university's donors, Lehman said NYU Shanghai, as a dynamic and forward-looking university, had built an installation "that will enliven our community, and that will give us a more vibrant, interactive relationship with our supporters in the future."

Initiated by the NYU Shanghai Education Development Foundation, "The Box" and the mezzanine space is the university's first interactive donor appreciation project. The Foundation already recognizes donors' names through an online honor roll on its website.
Rime Sun, Director of Development, said "The Box" provides a creative and engaging solution to deliver a thank-you message to supporters who have been endorsing NYU Shanghai since its founding in 2012.
"For me, the most exciting thing about 'The Box' is that it links our students with supporters in a way that speaks volumes of what NYU Shanghai is—a community that is grateful, creative, and fun," Sun said.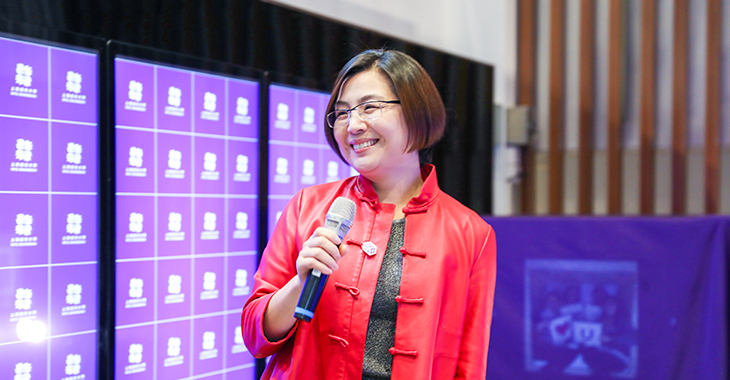 A seven-member student committee—The Box Committee—will be responsible for the daily operation and maintenance of the installation. The Box Committee are responsible for a set of guidelines for using The Box and certifying the publication of videos.
Victoria Rusu '19, who is also member of 2013 Fund Committee, was elected president of The Box Committee. Three years ago, the Moldovan received a full scholarship,  enabling her to travel across the globe to study at NYU Shanghai, her dream school. Now, she is passionate about passing along the philanthropic spirit.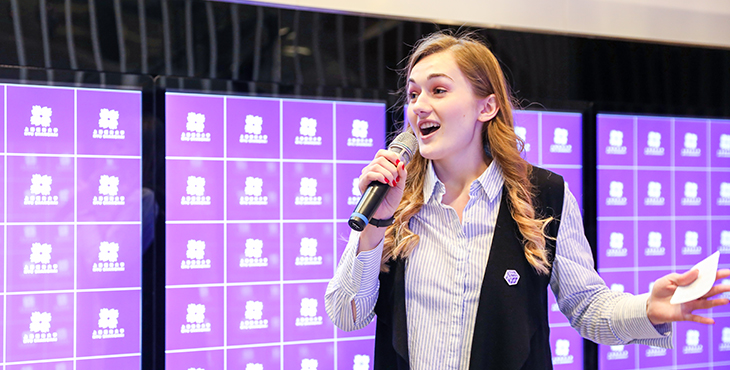 "Through using "The Box", we want to encourage students to express themselves and bond with each other, and therefore strengthen our sense of community," Rusu said. The committee will also organize a number of themed events and competitions throughout the year aiming to generate a video collection highlighting the diversity of the community. "Right now, we are preparing the Chinese New Year campaign and I hope we will get many happy faces and wishes on the screens," she added.