On October 18 2017, NYU Shanghai celebrated its "Lighting the Way" Scholarship Gala, with about 100 guests in attendance, including university leadership, members of the Foundation Board, alumni, donors, faculty members, staff, and students. In its third year of celebration, the Scholarship Gala continued its tradition of connecting NYU Shanghai supporters with honored students, paying tribute to scholarship recipients and acknowledging the generosity of our donors.
Jeffrey Lehman, Vice Chancellor of NYU Shanghai and member of the Foundation Board, opened the night with welcoming remarks, followed by a message from one of NYU Shanghai's friends, Ms. Xue Lan--both a parent to an NYU graduate and witness to NYU Shanghai's development over the past five years.

"I am happy to befriend students and learn about their joy and development through casual conversations. They have a way of inspiring and motivating us," she said.
"Innovative collaboration between the University and corporations can lend to more and higher-quality opportunities for student growth in the form of scholarship and financial aid."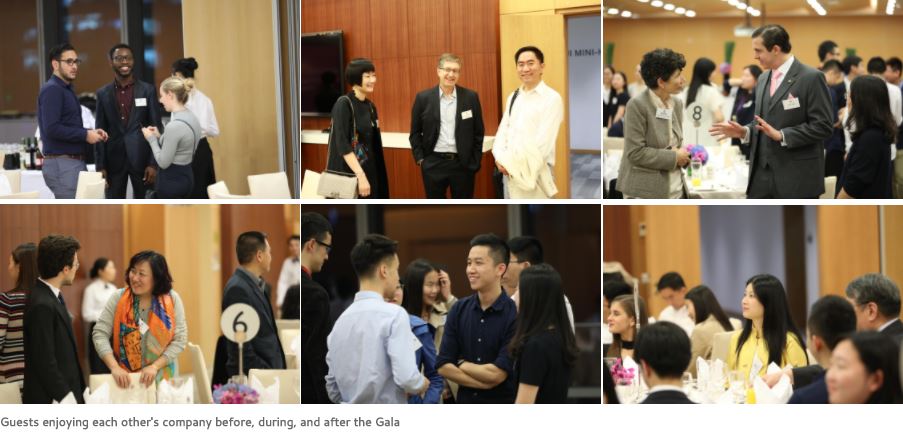 To highlight their appreciation for donor support, students performed a repertoire of Chinese and Western instrumental music and an originally produced, contemporary group dance.

The evening also highlighted the 2013 Fund, which was established by students. It was named after its inaugural graduating class's admission year in 2016.
Since the start of this academic year, the 2013 Fund has already awarded nine freshmen students with financial support.
"I look forward to witnessing more dreams coming true at NYU Shanghai thanks to our supporters' strong belief in education," said president of the 2013 Fund Committee, Erin Wu '18.
"Scholarship money was one of the only reasons I was able to attend NYU Shanghai. So from the bottom of my heart, I thank the University donors for helping to create this opportunity for me," said Vittoria Vitucci '20.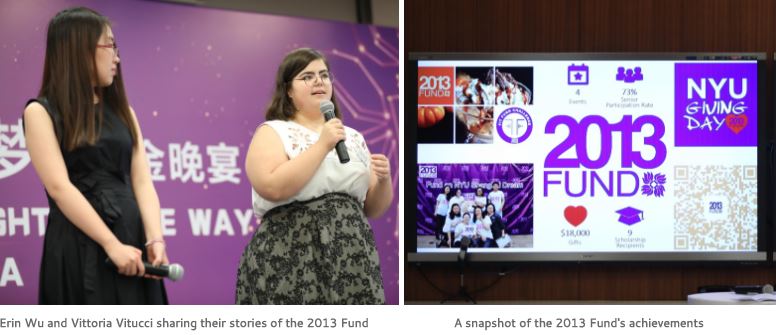 Chancellor Yu Lizhong closed the night with remarks of appreciation to donors and friends. "Because of your generosity, we are able to bring students who can build bridges between China and the world to this University," he said. He also called on the support of the University's own graduates, saying:  "I hope all students here understand their value and how important their studies here are to making changes in the world. The future of the world and future of NYU Shanghai depends on students--their performance and their support."
NYU Shanghai Education Development Foundation appreciates your support. We will see you next year!