More than 300 Chinese and international parents took part in NYU Shanghai's Class of 2021 Parents' Panel after Convocation on August 26. 
 
Parent questions ranged from how students would be able to cope with only one washing machine per floor in the dorms to how to keep cultivating their passions and talents for dance and music outside of the academic setting to what kinds of travel, internships and post-grad career opportunities would be available.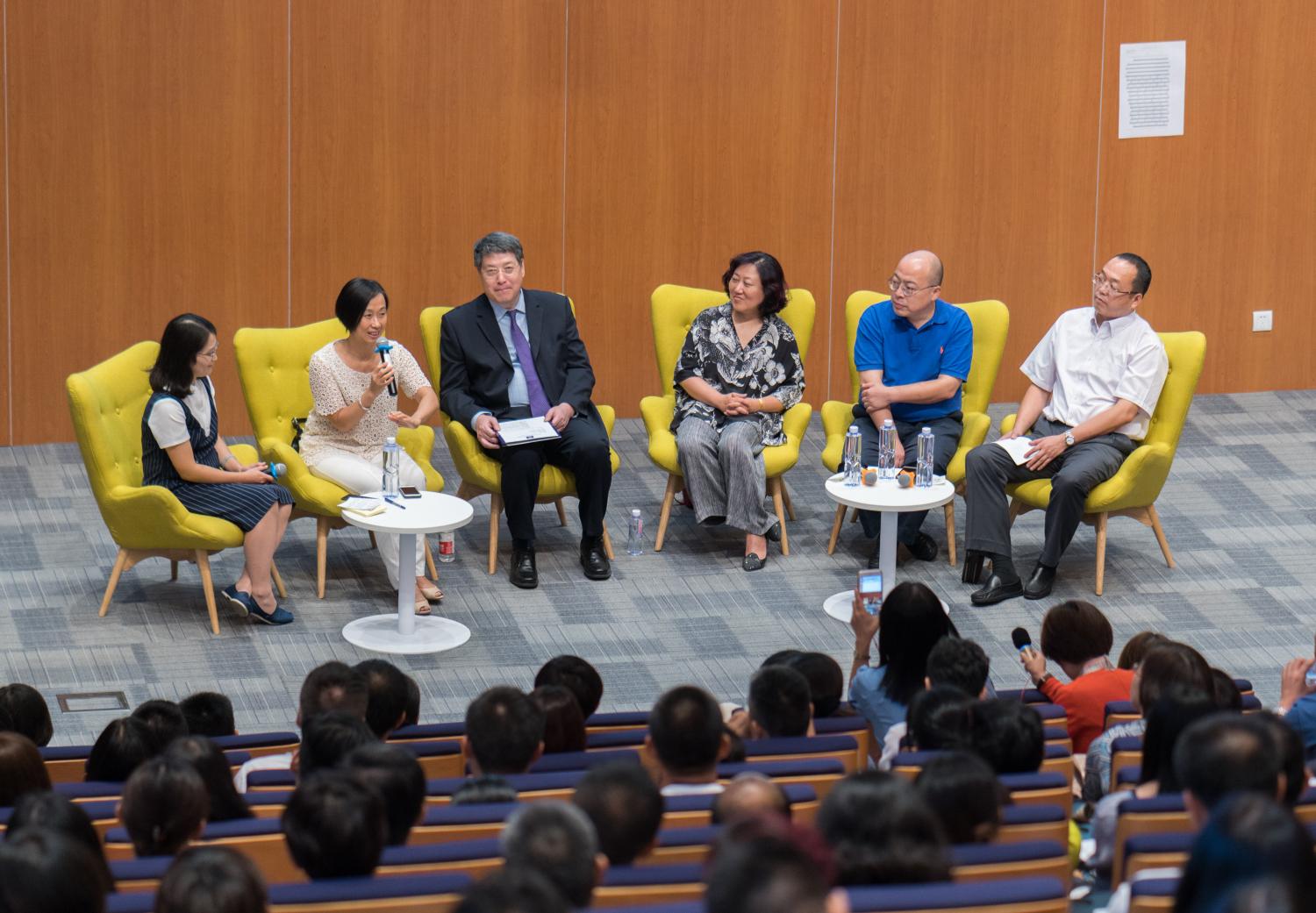 Panelists for Chinese parents, from left to right:
Rachel Zhao (Major Gift Officer, NYU Shanghai)
Huiqing Yu (mother of Yu Zhou, NYU Shanghai Class 2017)
Lizhong Yu (Chancellor of NYU Shanghai)
Arlene Xu (mother of Margaret Gao, NYU Class 2017)
Hao Zhang (father of Weilun Zhang, NYU Shanghai Class 2018)
Jun Fang (father of Qiheng Fang, NYU Shanghai Class 2019)
Chinese parents of current junior, senior students and recent alumni used their children's experience to illustrate how to develop efficient time management skills and how to adapt quickly to new environments while studying away. They shared stories about students founding charitable organizations, volunteering in rural China, and facing culture shock for the first time in a culturally diverse environment.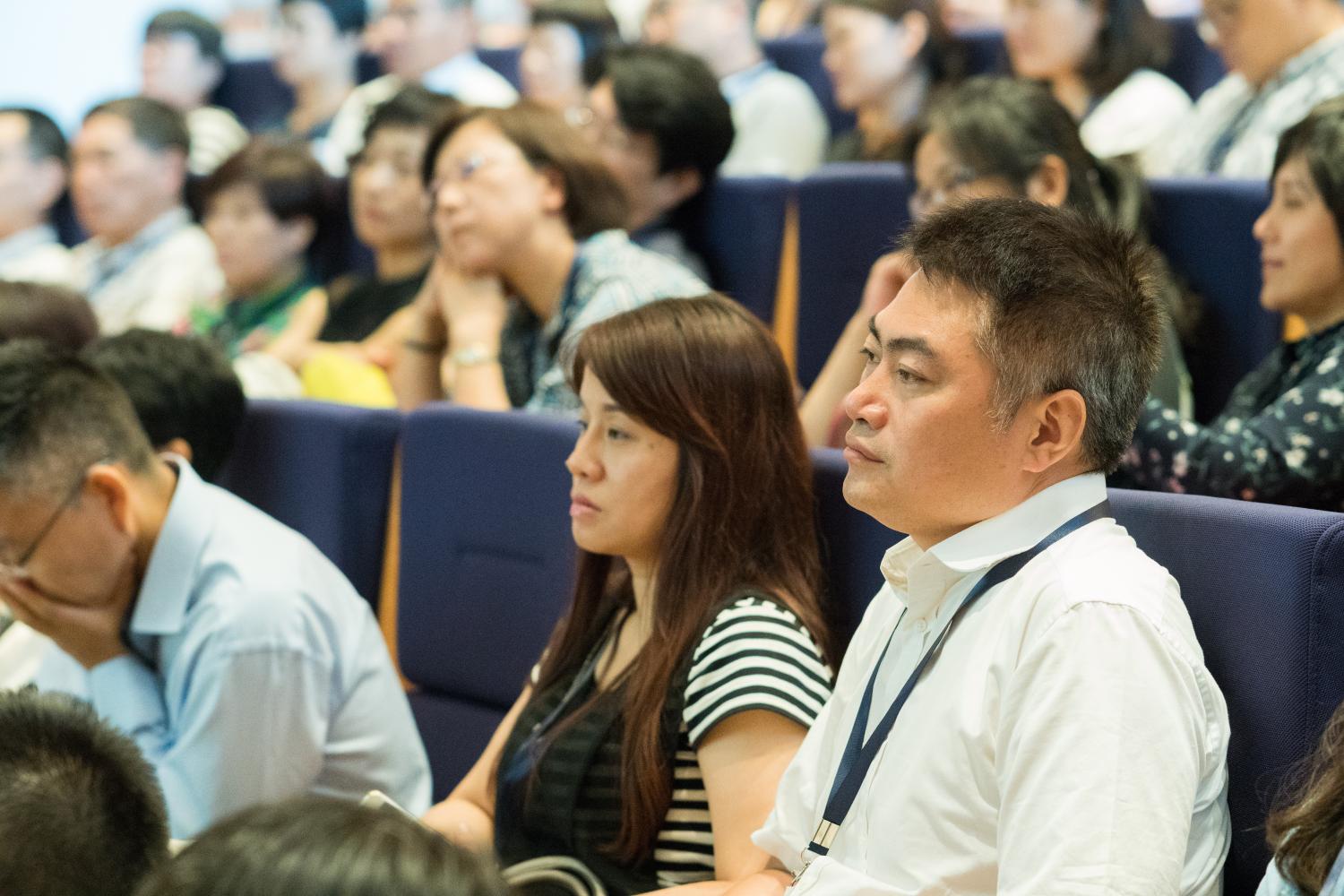 "Plan ahead if your child plans to pursue a higher degree after graduation", said Ms. Huiqing Yu, a mother of Class 2017 student. "It would be especially helpful to get to know the prerequisites for the higher degree, so they can adjust their course selection accordingly. "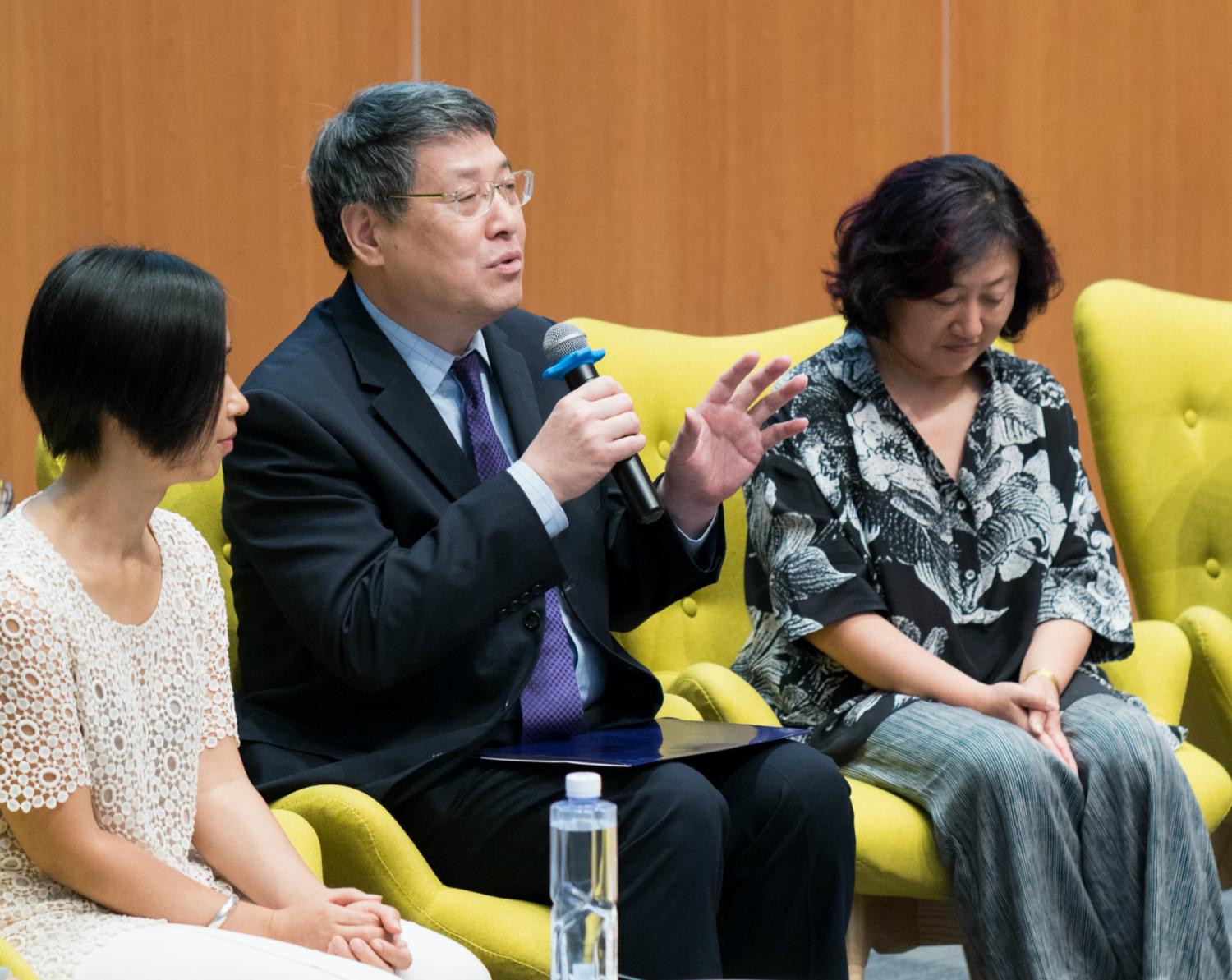 Addressing the question of how parents could best support their children's needs, Chancellor Yu had some sound advice. "Respect your child's educational development as adults. It's important that they work on their own growth rather than constantly compare themselves to peers," he said adding, "Students need to believe in their own understanding of themselves."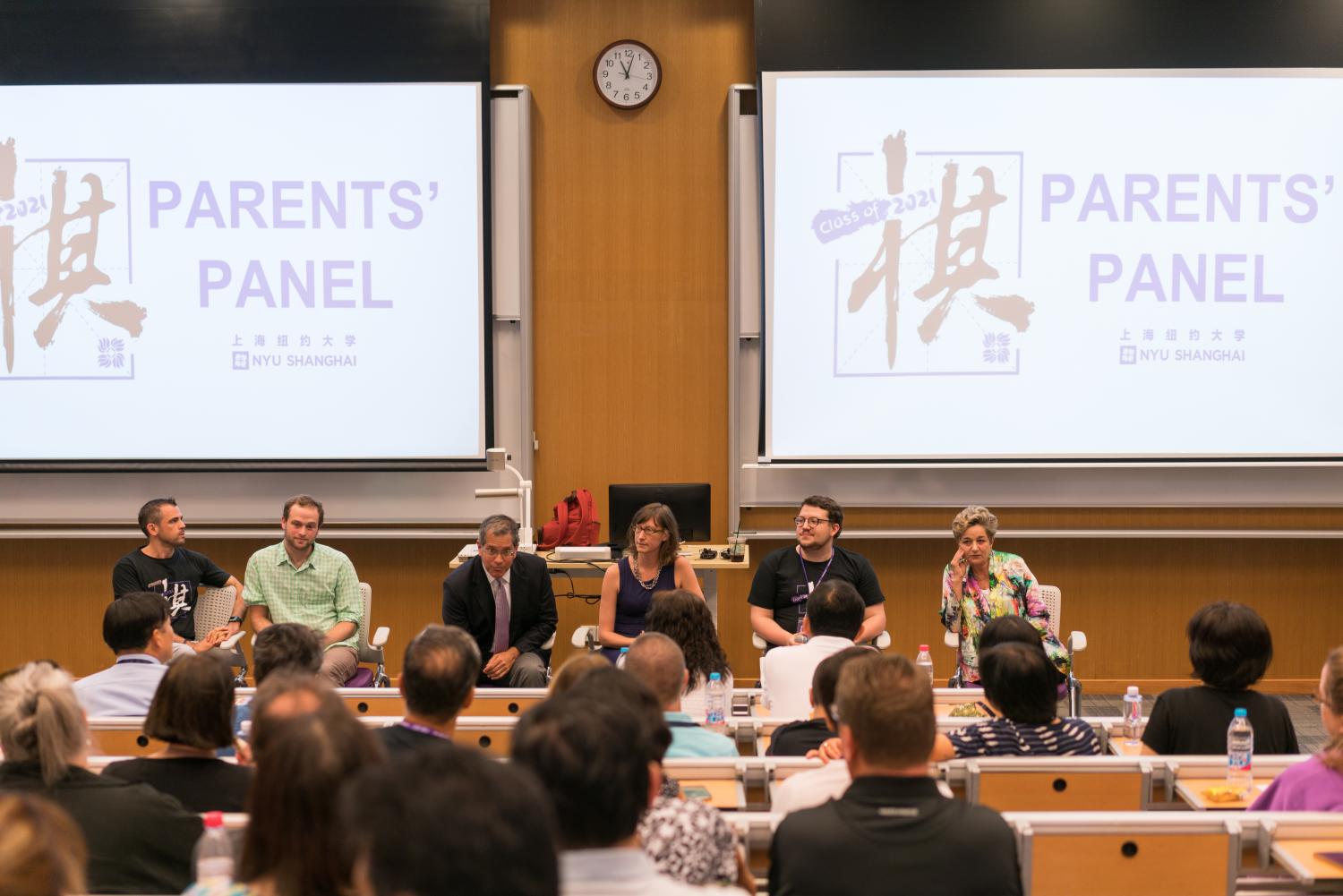 Panelists for international parents, from left to right:
Director of Student Development Adam D Ebnit,
Manager of Residential Life Eli Berk-Rauch ,
Assistant Provost for Academic Affairs John Robertson,
Global Academic Fellow Cydney Delia ,
New Student Program Associate Tyler Rhorick ,
Dean of Students Charlene Visconti
Eli Berk-Rauch from Residential Life advised international parents to trust their children as creative, suggesting that venturing into the surrounding community would be a perfect opportunity to adapt to the new environment, as well as to meet locals and practice Chinese.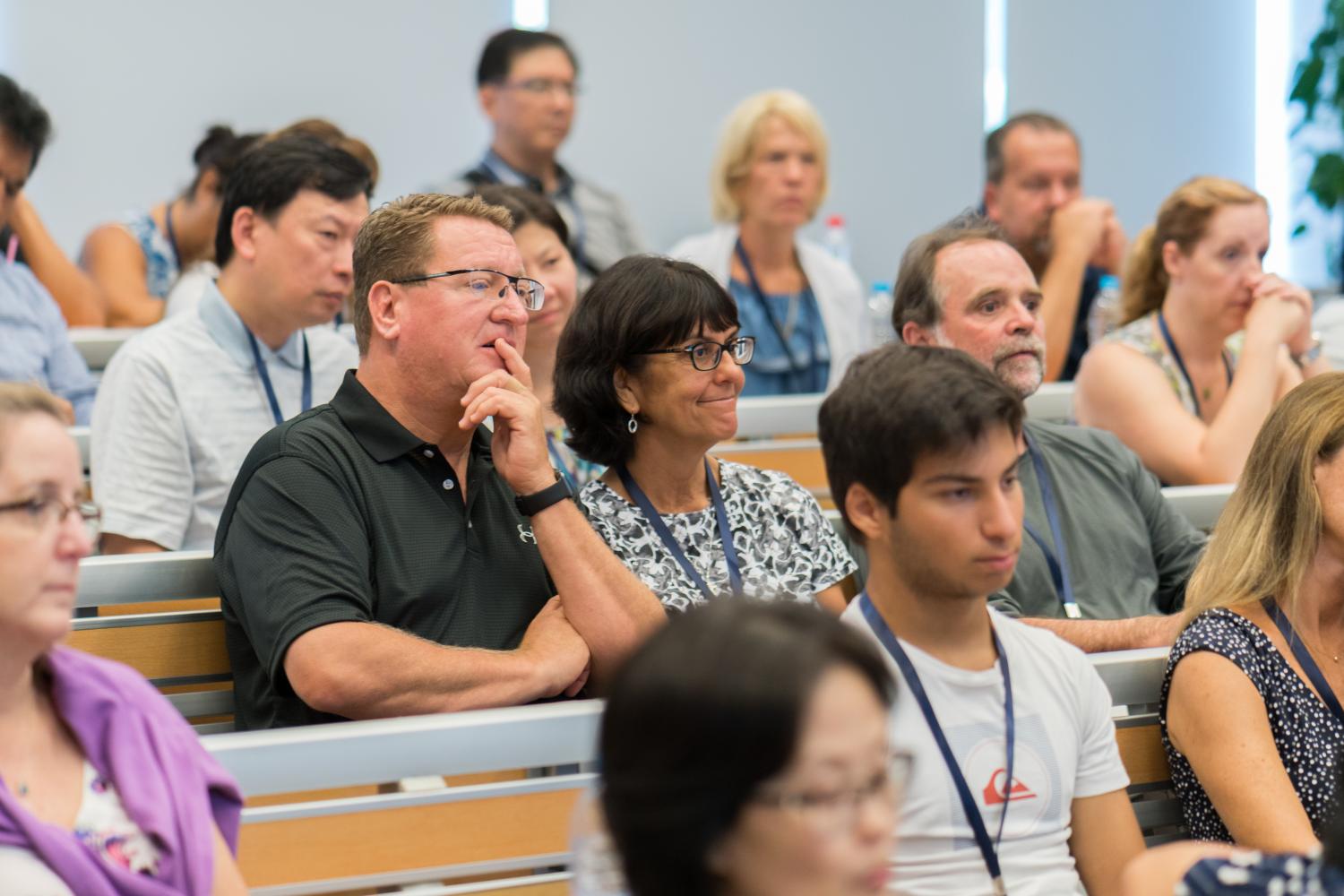 Staff from Academic Affairs and Career Development Center also shared insights on choosing majors, preparing for study away, balancing studies and life and how to make use of academic and career development resources.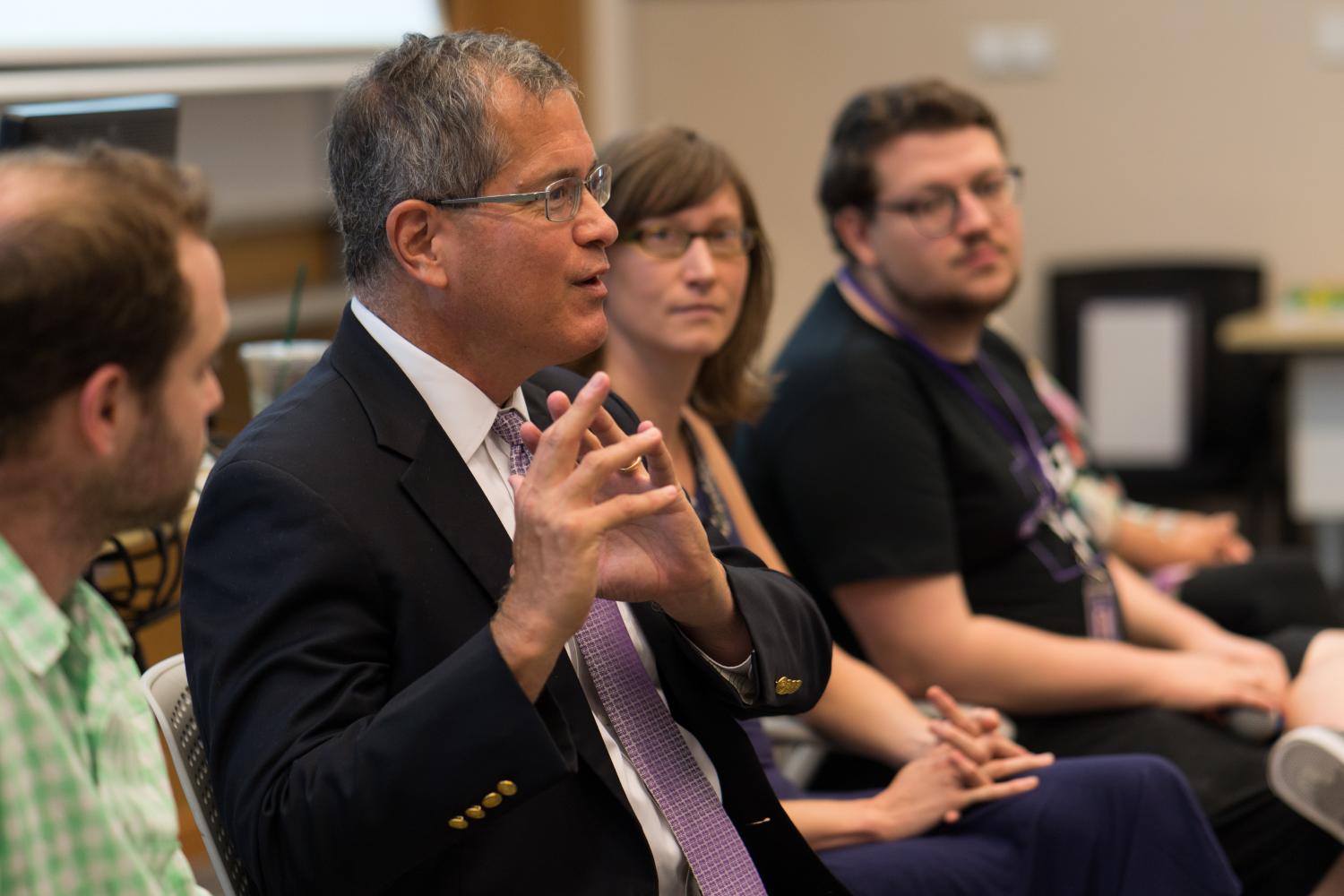 Parents to the Class of 2021 expressed their excitement to embrace their new role as a college student parent as well as their hopes for their children: "We hope you quickly adapt to NYU Shanghai's diverse environment and enjoy your exploration here."