Friends and supporters of NYU Shanghai came together at the University's Commencement Gala Dinner on May 23 to celebrate the achievements and successes of the graduating Class of 2018.
Chancellor Jeffrey Lehman  and  Mr. William Berkley
NYU Shanghai Vice Chancellor Jeffrey Lehman opened the evening with a welcome to the 88 guests, who included Chair of the NYU Board of Trustees William Berkley, member of the NYU Board of Trustees Jinsong Ding,  members of the President's Global Council, Chancellor of ECNU Shijun Tong, supporters and friends of NYU and NYU Shanghai, representatives of the graduates and their family members, and leadership from both NYU in New York and NYU Shanghai.

Chair of the NYU Board of Trustees William Berkley, thanked the guests for their long-term support for NYU Shanghai and the vision of a global university. He told the audience, "In the past few days, the scenes of violet waving across three great cities in three great countries are simply marvelous. As an alumnus of NYU, I am delighted to see that NYU has transformed from a university "in and of the city" to a university "in and of the world. A vision, after a decade of effort, has now come true."

This is Mr. Berkley's second time attending NYU Shanghai Commencement. "NYU Shanghai's continued success will be key to advancing NYU's educational mission of shaping talented young people to meet our dynamic world with open-minds and cosmopolitan ideas," he added.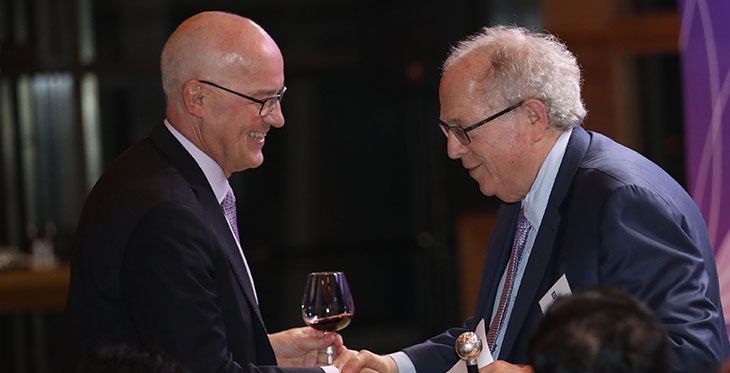 President Andrew Hamilton and Mr. William Berkley

The celebrations followed by President Andrew Hamilton's address, where he welcomed guests, congratulated and toasted to the Class of 2018, and highlighted some of the graduates' impressive achievements.  "Our students were pioneers who came to this school when it barely existed but leaving it as a great educational institution in the world, " he said. From receiving postgraduate offers from the world's preeminent institutions and earning coveted postgraduate scholarships including one Schwarzman and two Yenching scholars, to landing jobs in top-flight companies and intergovernmental organizations such as Amazon, Alibaba, Bank of America Merrill Lynch, IBM, L'Oreal, Morgan Stanley, Roland Berger, Standard Chartered, Tencent and UBS, the Class of 2018 has distinguished themselves across industry sectors and education institutions around the world.  
He was joined on stage by Class of 2018 graduates who shared their plans after graduation and gave bilingual speeches about the importance of cross-cultural understanding and benefits of NYU Shanghai's global education.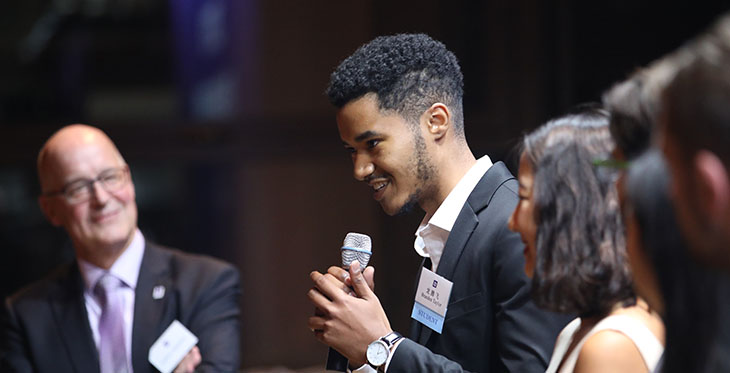 Branden Taylor                                        
Branden Taylor, who has been awarded a Princeton in Asia fellowship to work as an analyst for an investment company in Mongolia, said one of the biggest takeaways from his four years at NYU Shanghai was learning how to see different perspectives at a time the world is becoming increasingly interconnected. His sentiment was echoed by James Bromley, a Dean's Fellow at Yale NUS, will move to Singapore after graduation. "Regardless of our different background, experiences, and philosophies, the things we share and love are not so different," Bromley said.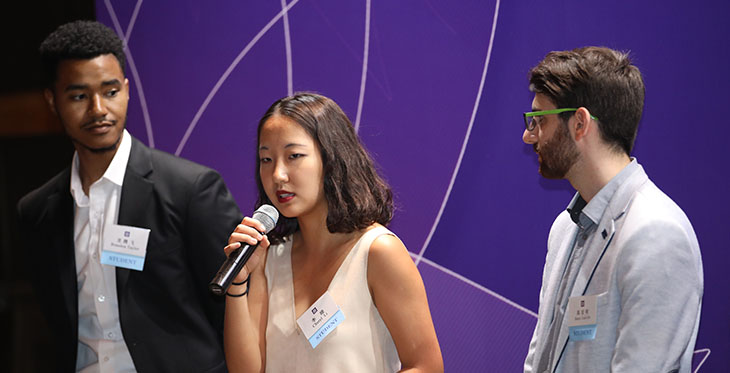 Brandon Taylor       Cheryl Li         Amit Gal-Or                                        
Cheryl Li, who will start her career with GroupM on their Management Trainee Program, where she will use technology and arts as channels in the marketing and business world, said: "the value of friendship and the value of supporting each other" were the most important things she learned in the last four years.

"That people from different backgrounds and places around the world come to this place to create a shared goal and vision, is truly inspiring to me," said Amit Gal-Or, who will continue to run his start-up company Phresh after graduation, while attending Yenching Academy at Peking University.

Nora Yang, cited a line from the NYU Shanghai Alma Mater, "The world is not too big for us to be friends", as her inspiration. Yang, who will be attending Columbia University to study Applied Analytics in the fall, added that she hoped to be able "to give back to society, to her family and friends, and to the school."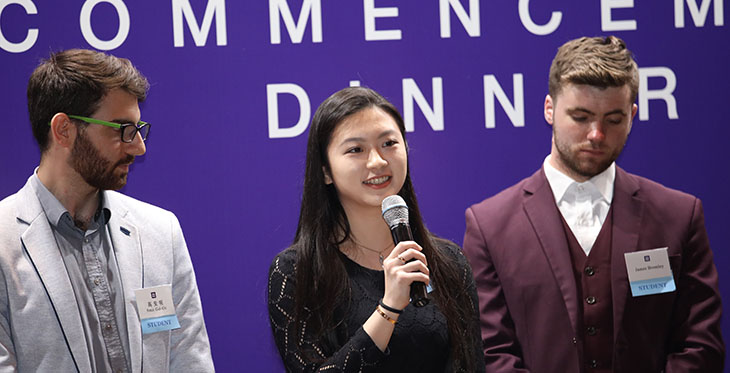 Nora Yang and James Bromley                                   
President Hamilton extended sincere gratitude to partners, supporters and friends of the University for their part in making the NYU Shanghai dream a reality.  "The reason NYU Shanghai exists, and the reason that these students, representatives of thousands of other students, can come to NYU Shanghai, is because of the generosity from our partners and supporters," Hamilton said. Since 2013, NYU Shanghai has been successfully making the University more affordable to its students, through an increase in named scholarships and financial aid. " The past has already been proved right, and the future will only be brighter," President Hamilton added.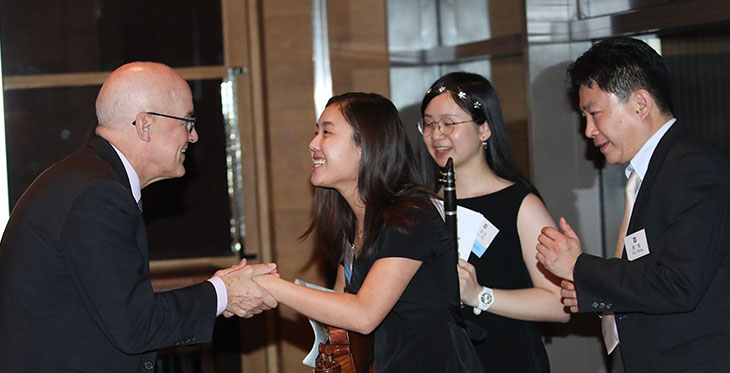 The gala resumed with a beautiful instrumental performance by a student and faculty quartet, and a duet in Chinese and English by graduates Bromley and Li.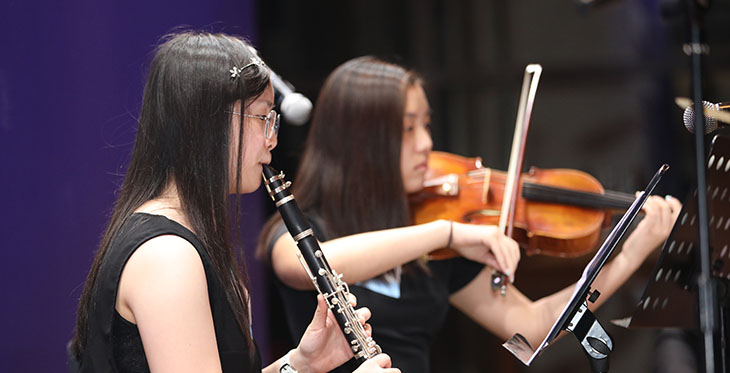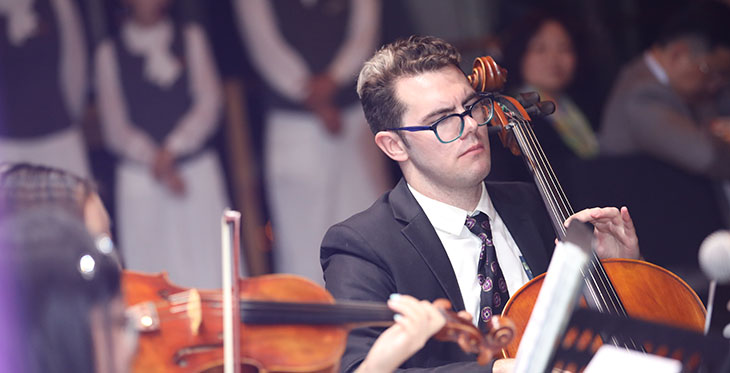 Quartet performed by students and faculty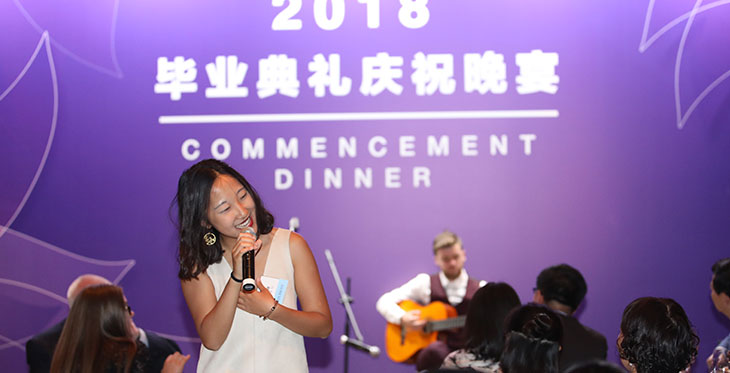 Duet by Bromley and Li

Chancellor Yu Lizhong closed the night with a reflection on the transformative power of education and philanthropy. "I believe education is the answer to the dynamic and challenging world," he said. "NYU Shanghai is only five years old. Our students need support of individuals from all walks of life to grow and develop into the problem solvers for a better world."
Chancellor Yu 
More Dinner Photos Below: